Coronavirus/COVID-19 Information and Resources for Residents and Businesses
Last updated: 5/14/2020
This page contains information and resources for residents and businesses during the Coronavirus/COVID-19 pandemic. We will keep this page updated with information as it is available.
CDA Office Closed Until Further Notice
Dakota County CDA offices are currently closed to the public in response to the COVID-19 public health pandemic until further notice. Business operations are being adjusted.
Staff will be answering calls and emails during this time.
If you are dropping off paperwork or a rent payment, please use the drop box located outside our front doors. It will be checked frequently throughout the day.
The CDA will continue to update the website with up-to-date information regarding business operations.
Flyers and Information
There is a lot of information out there, and much of it changes rapidly. Here are some flyers we've sent with basic facts and information:
COVID-19: What You Need to Know
Spanish: COVID-19: What You Need to Know
Clean Your Hands: Easy as 1, 2, 3
Stop the Spread – Social Distancing
Spanish: Stop the Spread – Social Distancing
Mortgage Information
If you have questions regarding the CARES Act and mortgage forebearance, this YouTube video may be informational to you:
CARES Act: Mortgage Forebearance Video
Energy Assistance
If you need help paying your energy bills, there may still be help available to you. Click here for more information.
Housing Choice Voucher Participants
If you are a Housing Choice Voucher participant, the below document explains the regulatory waivers that the Dakota County CDA has implemented for the administration of the Housing Choice Voucher Program.
Dakota County COVID-19 Information and Hotline
Dakota County has also set up an information and resource page.
Dakota County Coronavirus Information and Resources Page
The following information can also be accessed for health-related questions: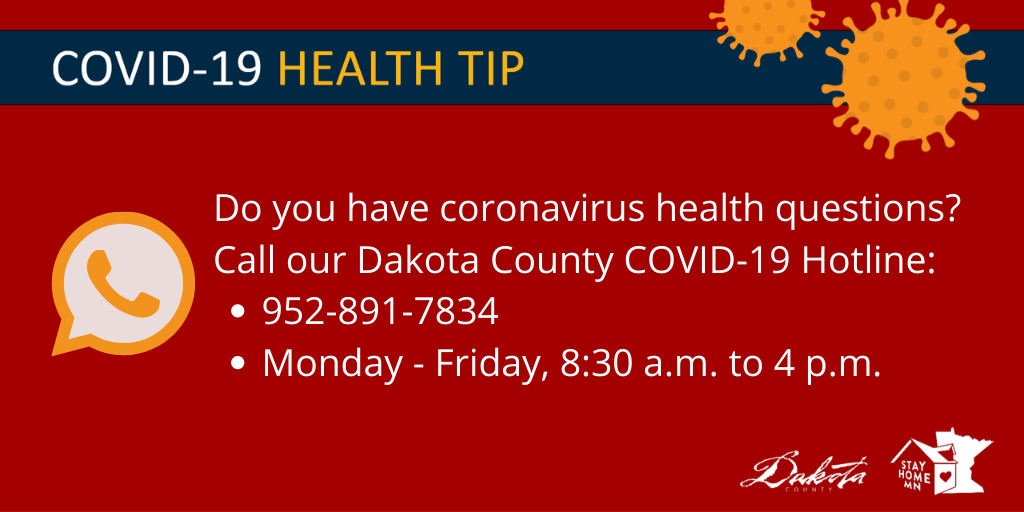 Resources for Businesses
The below information can also be found on our Economic Development>Resources and Links page:
Frequently Asked Questions for Businesses
Open to Business, in partnership with the Dakota County CDA and local Chambers of Commerce, hosted a series of free webinars for businesses to navigate this time. The series has ended, but the webinars can still be viewed/listened to on the Lakeville Area Chamber of Commerce's website: